What Is the Importance of Cloud Computing for Online Businesses?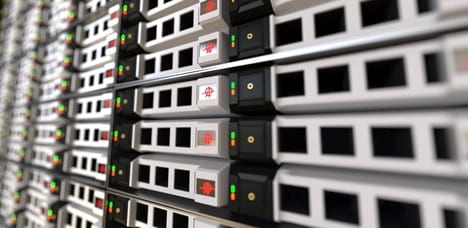 Cloud computing has become a staple for online businesses today. It doesn't just allow businesses to store information and increase processing power but also to scale it. Cloud computing enables businesses to maintain maximum uptime and provide their services to clients across the world.
Not only that, but cloud computing also allows businesses to save huge sums of money on infrastructure, maintenance, security, and overall capital costs. By switching to an OpEx structure, cloud computing allows businesses to operate as efficiently as possible. Overall, cloud computing for smallbusinesses allows them to compete with larger businesses by granting access to previously unavailable infrastructure.
Let's take a look at exactly how that all happens.
Most Common Applications of Cloud Computing for Small Businesses
According to a survey, there has been an 83% increase in cloud computing adoption in the UK since 2010. According to Statista, the UK government spent almost GBP 1.32 billion on cloud computing services in 2019.
Here are just some of the services that cloud computing provides to companies to make it so essential.
1. Infrastructure-as-a-Service/Platform-as-a-Service(IaaS/PaaS)
IaaS grants access to storage, compute, and network resources to companies on a pay-as-you-go basis. These third-party vendors use their infrastructure to lend storage space or processing power. Plans can be both monthly, or annual depending on the payments made. Vendors offer standard plans as well as advanced packages for those that want to pay for more.
2. Multi-Clouds and Hybrid Clouds
While cloud computing is more popular as a service for most companies, some still have their cloud servers. Hence, the term hybrid cloud refers to an environment constructed to connect a company's on-premises cloud and any other third-party cloud service. The hybrid cloud serves multiple purposes like running applications, providing testing and development environments, etc.
This provides companies choices to run certain processes on one cloud or the other. By dividing workloads, they can save on resources, get faster results, and choose as per the circumstance. Not only is this efficient but cost-effective.
Multi-Cloud takes this a little further. It allows companies to use more than two clouds from different cloud providers. Thus, you can run certain applications for productivity through one service, and customer-centric processes on the other. This way, companies can avoid vendor-lock in and take advantage of the best of both worlds.
3. Storage Data Backup
This is probably the most common use of cloud computing on the planet. Storing data and data backups is what people usually think of cloud computing is built for. Companies were responsible for their data backups with huge storage facilities for tapes and drives. This was more of a chore for smaller businesses since it involved setting up their data backup facilities.
However, today, with the power of fast internet and storage drives, the process is much easier. Data can be saved and backed up as soon as it's created. It can be edited on the go, and changes can be incorporated within seconds.
Any location worldwide can be used as a backup facility for your data, and data can be dispatched immediately. Any device from a smartphone to a smartwatch to a laptop or desktop computer can be connected. Thus, any business can take advantage of this technology to backup any data and access it without restrictions.
4. Big Data Analytics
Big data is a phrase that is used excessively today. Every organisation that wants to compete for the top spot in its niche or field is leveraging big data for products and services. However, its analysis wouldn't be possible without cloud storage. As a whole, the UK data centre market size will cross GBP 6.26 billion.
Organisations dealing with zettabytes of data in structured and unstructured forms need to store it reliably. Analysis requires pulling data from anywhere and anytime required to harness its benefits.
The cloud is the perfect repository to store real-time data from different sensors and devices. Like social media and private networks, other sources are all relevant when it comes to data analysis. With so much data collection going on 24/7, businesses need the cloud to keep up.
5. Testing and Developing New Products
Clouds can provide an environment for certain companies to build and test their products and services. While the obvious candidate for this environment is software, other industries can take advantage of this as well. For example, cloud computing environments can provide a testing ground for different web pages and online contests.
With cloud computing, several testing and development environments have already been tailored to various needs. Often, this entails the provisioning of physical and virtualised resources for companies.
Without cloud computing, companies would have to resort to creating these environments themselves. It would require significant infrastructure and IT prowess to construct them and operate them. Installing and configuration, as well as optimisation, would require huge sums of money. With cloud computing, small businesses can take advantage of this technology as well.
6. Disaster Recovery
A great benefit of cloud computing is the ability of disaster recovery. This provides faster recovery of data from a lot of different locations at a lower cost. Say your data has been damaged, stolen, compromised, or corrupted in one location. It can still be recovered in the several other locations it was backed up in. This is a far cry from the single point failure that was usually a company's backup system.
For Online Businesses Cloud Computing is Essential
Shifting from CapEx to OpEx
In essence, cloud computing allows every company to shift from a CapEx (capital expenses) to an OpEx (operational expenses) billing cycle. Instead of setting up and maintaining the infrastructure, platforms, and services yourself, you pay to use them.
That's worked for businesses quite well since they can access millions of dollars' worth of equipment for pennies in comparison.
A great benefit for smaller companies is that it allows them to scale up by spending a fraction of the money. Several smaller companies that couldn't have competed with their larger counterparts stand a chance due to this.
Leaving Maintenance to the Vendors
Cloud computing allows you to experience all the benefits at the front end while not worrying about anything at the back-end. You don't have to update the software or maintain the hardware or make additions to the infrastructure. The IT teams are all taking care of the equipment at the back-end, and you're just reaping the rewards.
To set that up, on-premises would require a massive undertaking worth hundreds of thousands of dollars. Upkeep costs would eat into the budget and paying the IT and maintenance teams would make further financial dents.
Cloud computing has provided an alternative that is infinitely preferable to everyone.
Getting Regular Updates without Gaps in Workflow
Remember the time when you had to restart your computer every time you got an update? Those delays are extremely costly for companies. Hence, with cloud computing, they're able to side step that process completely. Cloud vendors update software and add new features all the time. You don't notice it since it's happening at the back end.
Not only does this save a lot of time, but a lot of money as well.
Getting Maximum Uptime Throughout the Year
While not all cloud vendors can provide 99.999% uptime throughout the year, they come pretty close. The major vendors like Google, Microsoft, Amazon, and SalesForce, offer maximum uptime for companies. This allows companies to function throughout the year without losing out on customer business. They can access their data throughout the year at any place and time and provide services or products. It's what allows e-businesses to function 24/7.
Benefitting from Superior Security
Cloud computing vendors provide more than just storage, app suites, and analysis for companies. They also provide high-tier security to ensure that your data isn't stolen or compromised. A small percentage has even begun providing end-to-end encryption for your data.
However, for most online businesses, cloud computing provides for several tiers of security. These include disaster recovery and multi-factor authentication. Access restriction and critical data protection are also part of it. The latter refers to categorising certain data as critical so that it's protected in the event of a hack.
Cloud computing is an asset that has helped several companies scale up and scale out and compete. It is an innovation that has catapulted online businesses to the top and allowed them to innovate and thrive.