What Is a SWOT Analysis?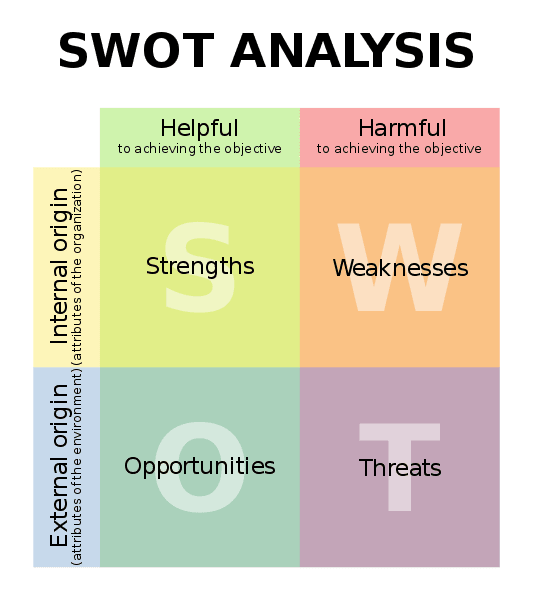 How do you analyse your website? Businesses compete on a daily basis to rank higher than their competitors. As a business owner, you need an effective analysis model through which you can generate a fair assessment for your brand. For starters, you can use SWOT analysis to evaluate your online performance.
What Is a SWOT Analysis?
SWOT is an amalgamation of four components: Strengths, Weaknesses, Opportunities, and Threats. They are commonly used by companies for the evaluation of their online performance as they allow managers to get valuable insights.
These components are further classified into two sub-categories: internal and external. Strengths and weakness make up the internal components because they can be supervised by the organisation. Conversely, opportunities and threats are the external components because they are not under the business' control.
The SWOT analysis initiates by defining certain objectives and goals for your online marketing. It is important to note that these goals must be "realistic" and measurable or else they do not contribute much. For example, you can set a goal that your sales should increase by 5% through your social media marketing in the next 12 months. On the other hand, if you propose a 50% increase, then such unrealistic growth impairs the analysis. When you are done with defining your goals and objectives, you can then perform the following steps.
Strengths
As the name suggests, strengths consist of your key advantages and areas where you hold a significant edge over your competitors. For example, your strengths can be your blogs which are received well by your target audience and boast a healthy following. Likewise, if the conversion rate of your landing page is high due to your content marketing and web page design, then it can also fall under the strengths category.
Weaknesses
Weaknesses point to the flaws and drawbacks of your website where you are deemed unfavourable by your users. This is an area where your competitors are ahead of you. Weaknesses are important to identify because they halt your progress and can become a major hindrance to your goals and objectives. For example, a weakness can be a poor mobile optimisation of your website .i.e. your website does not load well on the mobile devices of your target audience.
Opportunities
Opportunities are those metrics through which you can increase the reach and performance of your website. If you are able to identify opportunities as and when they arise, you can achieve your goals and objectives easily. For example, your opportunity can be to improve the payment system of your website and facilitate quick and cheap transactions for your customers.
Threats
Threats are those external components which can hamper your path to achieve your goals and objectives. For example, a threat can be the ever-changing consumer requirements, thereby making your products or services out-dated. New websites in your industry can also be considered as a threat.